Casanova in Bolzano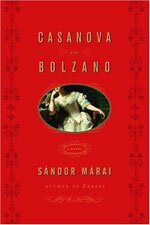 The second Marai novel to be published in English by Knopf. If Embers was primarily about friendship, Casanova is primarily about love between man and woman. It is clear that Sandor understands people better than most writers of the twentieth century, or in fact any that come to mind. From his writing, Sandor must have lived-- really lived--
Casanova is Bolzano is not a young man's (or woman's) book. Its insights are generally for those who've lived a good chunk of life already-- experienced human ambition and disappointment, true love and one night stands, youth and age, celebrity and exile, and grappled with the sometimes conflicting dictates of love and sex. It's a mature work from a mature writer.
It is also not a historical novel; it has precious little to say about the eighteenth century, or Italy, or even specific characters. The characters in Bolzano are not even "characters," as such-- in fact, the name "Casanova" does not appear once, outside of Sandor's introduction (the original Hungarian title is "Vendégjáték Bolzanóban," which also does not mention "Casanova"). It's about people, archetypes.
How does it compare with Embers? It starts off a little more slowly (The NYTimes review called it, "a novel of exquisite slowness and refreshing oddity"), but quickly picks up for one classic Marai scene: two people in a room meeting again for the first time in years.
See
The Complete Review: Casanova in Bolzano
- a summary of all the reviews and useful links.