Embers: the Film
Embers was set to start filming in 2004 with legendary director Milos Forman (
Amadeus, One Flew Over the Cuckoo's Nest
) at the helm, but Sean Connery
pulled out
of negotiations to star as The General and the project is currently adrift. Forman is directing other projects, and it's unclear whether the film will ever get made.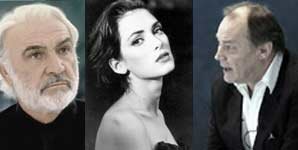 It was set to star some fine actors: Winona Ryder as Krisztina and veteran Austrian actor
Klaus Maria Brandauer
as aged Konrad. What would a film of Embers be like? I wonder whether a film would focus on the love triangle while losing sight of Marai's observations on history and life.